Nobody likes it when a washing machine fails. A useful and reliable helper suddenly starts to be an issue, a source of dirt and leaks. Nevertheless, some washing machine malfunctions can be easily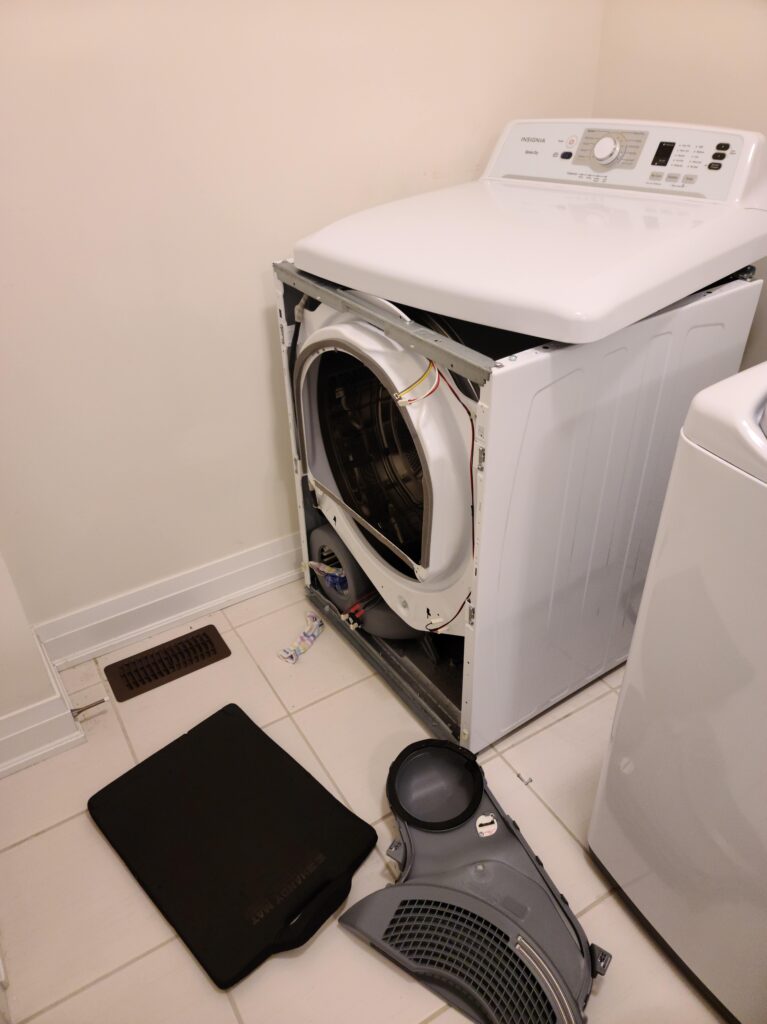 Washing machine breakdowns: causes
You need to know that the washing machine we use is an extremely complex technical equipment. It is full of wiring, sensors, and electronics. If we're talking about the latest models, they've got a computerized control and monitoring unit added to the impressive sensor modes list.

Washing machine breakdowns happen both because of some operational conditions and also when the power supply or working environment parameters are inconsistent. Below is a kind of shortlist you can create:
Washer not draining. It may be broken pump, or objects (like coins, hairpins, buttons, screws…) stuck in filter or pump, or lid switch broken, also potentially control board or broken wires.
Water not coming in. – Poor quality inlet water: it's either too hard and created scale/residue in water inlet valve filter, or low water pressure, or broken valve, also potentially control board, pump or door lock.
Washing machine shaking, making noise or vibrating. Device not installed correctly. Most common reason is that delivery company or installer have not removed shipping bolts, or did not set up proper leveling. Could be shock absorbers, or bearing, or simply clothes are not spread evenly if it is top load washer.
Operational errors, or ignoring the instructions of the manufacturers commands – could be control board or display board defective.
The power connection isn't correct. Could be loose connection at the receptacle, or braker.
A Glance At the Major Malfunctions
The Washing Machine Does Not Turn On
You may not be able to power on your washing machine because of some reason. The case that's most unpleasant and needs costly repairs is the total electronic control unit failure. Nevertheless, you may not see an error on the display. You need to consistently act and begin to check for some possible causes.
Check if you plugged the machine in
Ensure that the machine is turned on and off in the normal mode
After you disconnect the machines check the power supply cable condition
If you find shortcomings while doing those easy checks, they'll be gotten rid of. You shouldn't wrap the power cable with twisted wires, electric tapes, or other DIY ways of trying to repair the breakage. You need to completely change the wire. The current consumed by the washing machine is much, so the repair you feel you've done might result in an electric shock, fire, or short circuit.
Other times that the washing machine doesn't turn on are likely as a result of the lock, set by the electronic system. There are built-in diagnostics in modern models. You can easily identify the issue from the error you see on the screen. Washing machines that don't have a display have got another alarm system. A particular combination of LEDs will begin to flash on its control panel. For this issue, you can find a viable solution from washing machine repair services in Toronto.
In some machines, there's an issue of the contact area insufficiency. At the heating element's terminals, the wires that supply voltage burn out. You will need to disassemble the case, clean the contacts, then work a little using a soldering iron to fix the issue.
If there's no temperature regime observed, it means a control unit or monitoring sensors malfunction. It's quite unusual to have this group of issues. So, your best bet will be to opt for appliance repair services in Toronto. Your issues will be diagnosed by qualified professionals and offer the best solutions.
The continuous breakdown seems to be an issue with fluid circulation. If your machine doesn't draw water, what you first need to do is check the input filter condition. You can do this by unscrewing the supply hose, then getting rid of the mesh. When you supply hard water, it becomes blocked with salts; this can totally block the water.
One other reason for an absence of a fluid set is a malfunction or breakdown of its press start. You can check this unit if you've got the proper skill to disassemble the case properly. If not, you need to reach out to an appliance repair specialist.
Weak Laundry Spin
If your machine doesn't wring out the laundry very well or even at all, the issue may be because of:
A banal usage error. You'll mostly see this in machines that are electronically controlled which gives you the chance to set the drum rotation's speed. You just used to forget to switch that mode.
Spin disabling mechanical regulator malfunction. You can get rid of this when you clean the contacts of the control or replace the control.
You overloaded the drum. If there's a huge amount of laundry, water can't move fast to the drain tank boundaries. You should divide the items you load into multiple parts and separately squeeze them.
The laundry is too little or it's not distributed evenly across the drum. When this happens, an imbalance will be detected by the monitoring system thereby preventing the engine from doing high revolutions.
They've also got issues related to the electrical part malfunctions. An issue that's more complex is the motor windings partial failure. When this happens, the drive doesn't develop the power that's needed. They've got failures in the tachometer operation, as it's the one that counts the number of revs. The highest case is the electronic control unit malfunction. The whole issue listed here needs the service of a qualified expert. So, choose Canada appliance repair services.
Control Module Issues
The only right way of troubleshooting the washing machine's control module is reaching out to a professional specialist. Control module issues can happen in several ways. It's likely a failure of performing the chosen program, it doesn't follow the script correctly, incorrect heating parameters control, and speed.
An Unpleasant Smell After you Wash
This unpleasant smell after you wash or laundry stains is dirt and mold that's accumulated in different parts of the machine. Prevention is the basis of fixing this usage. You need to clean the machine after washing, wash out the powder that's left from the receiving compartment. It isn't also recommended that you install this device in a damp room, and during work breaks, you need to open the door for ventilation and drying.
The easiest way of removing dirt and mold is running a long wash with max temperature lots of times. Between washes, you need to allow the machine's inside to dry properly.
Reach out for a washer repair service in Toronto. Their team will solve every issue with washers and make them operate smoothly.